Joined

Aug 8, 2007
Messages

2,574
Likes

14
Points

38
Genres:
Adventure, Drama, Fantasy, Horror, Shounen, Supernatural
Plot Summary:
In a world where monsters called Yoma prey on humans and live among them in disguise, humanity's only hope is a new breed of warrior known as Claymores--silver-eyed girls who have willingly become half monster to destroy the predators. But the more the Claymores call on their supernatural strength, the closer they come to losing their human sides forever.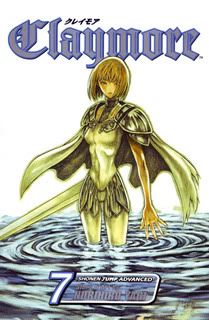 An excellent and bloody manga if I do say so myself, wish the anime would of stuck with the manga but that's beside the point.
I'd love if it didn't come out once a month though.
Anyone else claymore manga fans?
Last chapter:
I liked the ending of the last most current chapter, Clare and company are gonna kick that nekkid xD awakened Beings ass =D