Joined

Mar 10, 2008
Messages

1,957
Likes

12
Points

38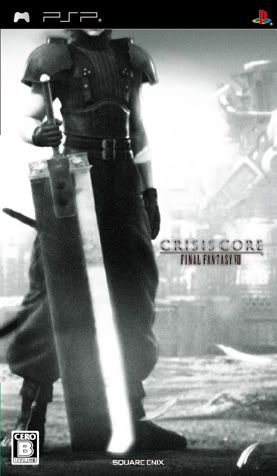 Developer(s) Square Enix
Publisher(s) Square Enix
Designer(s) Yoshinori Kitase
Shinji Hashimoto (executive producer)
Hajime Tabata (director)
Hideki Imaizumi (producer)
Takeharu Ishimoto (composer)
Tetsuya Nomura (character designer)
Kazushige Nojima (scenario writer)
Series Final Fantasy series
Compilation of Final Fantasy VII
Platform(s) PlayStation Portable
Release date JP September 13, 2007
NA March 25, 2008
EU June 27, 2008
Genre(s) Action role-playing game
Mode(s) Single-player
Rating(s) CERO: B
Media UMD
​
Storyline
:
Thanks to their monopoly on mako energy and a strong military force, the Shinra Electric Power Company is quickly exerting their influence around the world. Construction is also rapidly advancing on their base, and symbol of prosperity, the mako city of Midgar, which will soon become Shinra's seat of power.
The Shinra Company possesses an organization of soldiers with powerful combat ability known as SOLDIER, and amongst them, the especially excellent SOLDIERs are known as SOLDIER: First Class, inspiring respect and envy from the masses. One of the young people yearning to be First Class is Zack. He works hard at his daily duties with his senior, Angeal, a First Class and an excellent leader.
At that time, the SOLDIER Mass Disappearance Incident occurred when, during combat operations in Wutai, Genesis, a first class member of SOLDIER, went missing without a trace along with many other SOLDIERs. The Shinra Company's top management assessed the situation and decided to send out SOLDIER in order to bring an end to the war and clarify the scandal, and so, Angeal and Zack, as well as Sephiroth, whose name would come to be known throughout the world as a hero, were dispatched to Wutai.
Gameplay
:
Crisis Core has action- and menu-based elements. The new battle system is known as Digital Mind Wave, or "DMW", and revolves around a series of reels at the upper left corner of the screen which spin continuously as long as there is SP left to consume. Each rotate independently and upon lining up the three reels of the same character and value, a power-up or a "Power Surge!" will be rewarded to Zack.
The player will have full control over Zack when moving around, and can rotate the camera with the left and right triggers. Enemies abound in the field screen, battles against whom take place in real time.
Enemies can be attacked physically and magically. Spells such as Fire and Cure are located on the command bar rather than in a separate sub-menu like in Final Fantasy VII, and used in the same fashion as previous titles. Materia makes a return, fully customizable and in the multiple varieties from Final Fantasy VII, including green (spells) and yellow (extra commands: Steal, Sense, etc.) In addition, Materia can be fused together to enhance one Materia's abilities (such as making a Cure Materia that increases HP), or to make an entirely new Materia. The Materia the player has equipped determine the Magic and special commands on the in battle menu. Defensive and evasive maneuvers can also be used, such as dodge-rolling and blocking incoming attacks.
Trailer:
YouTube - Final Fantasy VII: Crisis Core English Trailer 2
I Hope This Is Ok, Please Don't ban me For Doing this. Dx lol
Last edited: